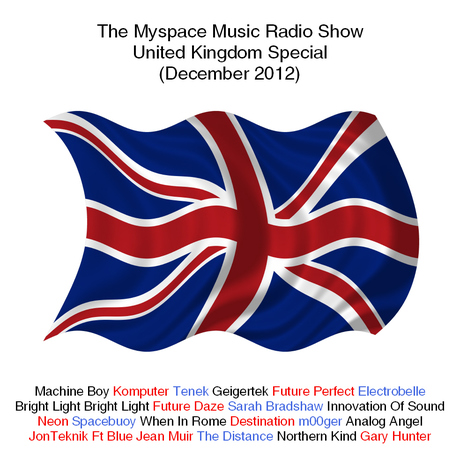 This months edition of the Myspace Music Radio Show is the final show and features electronic music from bands based in the UK.
You can listen to or Download the show for FREE via the link below.
Listen Or Download The Myspace Music Radio Show (UK Special December 2012)
Play the show by scrolling down past the artist details and click on the GREEN PLAY BUTTON or download by clicking on DOWNLOAD to the right of the PLAY button.
You can also listen to the show via the brand new website I have set up exclusivley for these shows:
The Myspace Music Radio Show Homepage
You can now DOWNLOAD the shows for FREE via iTunes
Download The myspace Music Radio Shows via iTunes
You can also DOWNLOAD or Stream the show on Soundcloud:
http://soundcloud.com/themyspacemusicradioshow
Also if you encounter any problems Downloading or Streaming the show here it is available to Stream on Mixcloud:
The Myspace Music Radio Show On Mixcloud
Here's a list of the fantastic artists for this show: -
Artists/Tracks/Links
Machine Boy - I Love My Radio
http://www.shotguncharlie.co.uk/machineboy.htm
Komputer - Like A Bird
http://uk.myspace.com/komputermusik
Tenek - What Do You Want? (Radio Edit)
http://www.myspace.com/tenekuk
Geigertek - How Do You Dream?
http://www.geigertek.co.uk/
Future Perfect - Saint Perfect
http://www.futureperfect.org.uk/Home.html
Electrobelle - Mirrorball
http://www.myspace.com/electrobelle
Bright Light Bright Light - Disco Moment
http://www.brightlightx2.com/
Future Daze - Time Is Standing Still
http://www.futuredaze.co.uk/
Sarah Bradshaw - Incandescence
http://www.myspace.com/139640423
Innovation Of Sound - Nothing To Fear
https://soundcloud.com/innovationofsound
Neon - Computer
http://www.myspace.com/neonelectro
Spacebuoy - The Fear
http://www.spacebuoy.co.uk/
When In Rome - Fatal
http://www.wheninromeofficial.com/When_In_Rome_UK_new/Home.html
Destination - A Quiet Place For Us To Breathe & Orphan
http://www.ourdestination.co.uk/
m00ger - Fantasy
http://www.mooger.co.uk/
Analog Angel - When You Called My Name
http://www.myspace.com/intheanalogueshadows
Jonteknik Ft Blue Jean Muir - Hollow
http://www.jonteknikmusic.com/
The Distance - Character Assassin (Falling Apart Version)
https://soundcloud.com/nsjuk
Northern Kind - Euphonic
http://northernkind.co.uk/
Gary Hunter - A face I Knew (Analogue Mix)
http://www.garyhuntermusic.co.uk/
My thanks to all the bands that have contributed music over the last few years and also to all those that have listened to and supported the shows.
Gary